Четверг, Май 23, 2013
Вторник, Апрель 23, 2013
Четверг, Март 7, 2013
Среда, Февраль 20, 2013
"
Stalin could shake his little finger, or any other part of his anatomy he liked, but it made no difference to Tito.
"
Nikita Khrushchev on the Tito-Stalin split of 1948 (via linguophilic)
deffo checking out dat junk
Вторник, Январь 22, 2013
Everything should be done so that it drags out as long as possible with the goal of weakening both sides. For this reason, it is imperative that we agree to conclude the pact proposed by Germany, and then work in such a way that this war, once it is declared, will be prolonged maximally. - Stalin, 1939

Remind me again how great that plan worked out for the Soviet Union Joe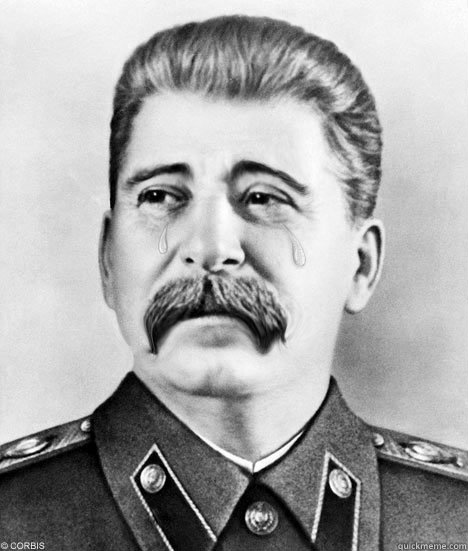 Пятница, Январь 4, 2013
Среда, Ноябрь 21, 2012
Суббота, Ноябрь 10, 2012
Четверг, Август 2, 2012
Воскресенье, Июнь 24, 2012
Воскресенье, Май 27, 2012
"
It is true, I wrote the lyrics for Russia's Eurovision entry. Party for everybody!
"
Joseph Stalin
(via antisocial-socialist)
Четверг, Май 17, 2012
Пятница, Май 11, 2012
Вторник, Апрель 24, 2012